from LA WEBZINE DI AUDIOFOLLIA.it, Webzine of musical reviews, edited by Francesco Lenzi and from the blog  Audiofollia.it by Giovanni D'Iapico.
Today, we're going to tell you about an extremely refined artist who creates complex and fascinating music.  I'm speaking about Michèle Raffaele, Canadian pianist/singer/composer (who has recently moved to Italy) and who whose first EP "Minor Offender" has just been released, but the maturity of her songs is such that this recording doesn't seem like a first work at all, on the contrary…. The EP in question is already mature, lacking uncertainty and is the demonstration of the enormous cultural knowledge of our musician (she has been playing the piano since childhood and boasts a considerable résumé, having been trained in important musical universities).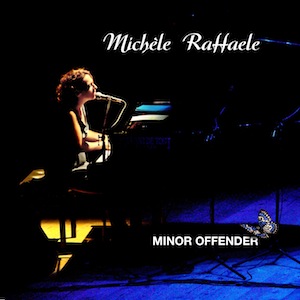 What kind of music does Michèle make?  It's quickly said:  the five tracks which compose "Minor Offender" each have a different atmosphere, from a persuasive and soft jazz to almost orchestral settings, passing through extremely looked after and sophisticated "pop" moments without ever forgetting the "song's" structure.