Michèle Raffaele: fine and intense music, but with soul (and heart)
from LA WEBZINE DI AUDIOFOLLIA.it, Webzine of musical reviews, edited by Francesco Lenzi and from the blog  Audiofollia.it by Giovanni D'Iapico.
Today, we're going to tell you about an extremely refined artist who creates complex and fascinating music.  I'm speaking about Michèle Raffaele, Canadian pianist/singer/composer (who has recently moved to Italy) and who whose first EP "Minor Offender" has just been released, but the maturity of her songs is such that this recording doesn't seem like a first work at all, on the contrary…. The EP in question is already mature, lacking uncertainty and is the demonstration of the enormous cultural knowledge of our musician (she has been playing the piano since childhood and boasts a considerable résumé, having been trained in important musical universities).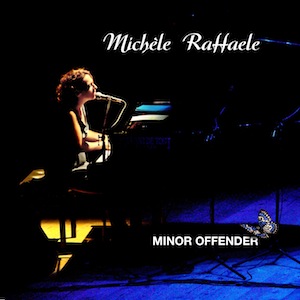 What kind of music does Michèle make?  It's quickly said:  the five tracks which compose "Minor Offender" each have a different atmosphere, from a persuasive and soft jazz to almost orchestral settings, passing through extremely looked after and sophisticated "pop" moments without ever forgetting the "song's" structure.
The CD opens with a soft jazz pop-piece with a joyful vintage atmosphere, "Lady Maybe" which immediately highlights Michèle's  excellent interpreting gifts:  a beautiful original voice, perfect and vibrant, personal and excellent piano technique.  The song is a sketch which describes an insecure girl, and seems to have been taken from a Woody Allen soundtrack; refined yet melodic, complex yet always flowing, extremely "catchy".
There's also a space for a moment devoted to a social theme:  "Remember Me Next Sunday" is in fact the portrait of a young African man met in a soup-kitchen a while ago.  Musically, we are in a captivating orchestral pop, which couldn't be more noble;  a sure beginning, in which the piano and singing notes become nocturnal and intriguing, and then leave space to an airier chorus and voice, even though still slightly shady.  An excellent piece, performed and composed with extreme mastery (and with a few "classical" aspects); a masterpiece which gives shivers  in  an almost musical mood…  The title-track proceeds on melodic paths but not dull and is another portrait;  in this one we're speaking of a "hunting" woman, who, at a party, tries to clumsily pick up men, without anyone understanding her aptitude.  We could define it as a pop-rock piece (in a soft intimate version) which shines like a diamond (it reminds me of certain Kate Bush atmospheres at the end of the 70s, but it-s only a personal cross-reference  to make you understand the style – or attempt to….- also because it wouldn't be fair to compare our friend to others given her strong personality):  shady at times, bright in the chorus , she plays with these dynamics and its contrasts….and Michèle is in great shape, as usual, both vocally and musically).  (There's also a video-clip of this song you can enjoy on YouTube at this address:https://www.youtube.com/watch?feature=player_embedded&v=cXSeWrVHUjU).
"Superior" shows further influences and definitely changes atmosphere.  In fact the singer-songwriter background embraces a veiled folk pace, combined with an almost 60s orchestral mood.  And, in fact, in this lively piece, irony peeps out:  it points at those people who seem to know it all and the atmosphere is amused and amusing, without giving up on refinement (but never as a means to itself).
The EP closes beautifully with a melancholy piece sung in French  " Montreal…je reviendrai" dedicated to Michèle's  native city:  a heartfelt tribute to her own roots (which remain so even if you leave your own country), soft and melodically nocturnal and the shivers go up your spine, because it is a moving piece like few others, scraping sound perfection…
For all lovers of refined music, well made without any smears, yet still able to fully move, this is an unmissable record;  but I would also recommend it to those who listen to different sounds, because they could have a revelation here.
Michèle Raffaele:  remember this name and surname, because we'll hear about her again, and for a long time-…
Paraphrasing the title of an old song, I could say that the music of the Canadian artist could be summarized in this sentence:   "When music becomes poetry…"